I write every day.
Writing feels like this.
I LOVE it! I can't get enough.
So I'm a writer! It's awesome, right?
But....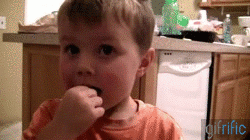 It's more like this when I actually look at it... A bit sour and terrifying.
Which is why I like to think of myself as a reviser too.
Revision is like...
Whoa, that was awesome!
Was that magic?
No. It was editing. And everything is better for it.
Always writing. Forever revising.
High Five!
Or... Just...
Back to work.
Also--this is my first successful use of Gif's. I've tried to paste them here before and only got the code stuff on here. So woo! It worked. Way more fun than just words.